In just a few years, Oklahoma City's east side has gone from an underrated and often overlooked dining destination to one that boasts the state's first James Beard Award (Florence's Restaurant), a pizzeria from an Emmy-winning musician (Eastside Pizza House) and a cocktail bar where culture is as central as mixology (Kindred Spirits). The latest business cementing NE 23rd Street as a veritable restaurant row is Scrambl'd, a daytime concept that's shaking up the city's breakfast scene with novel takes on morning fare, an energizing ambiance and a palpable sense of community.
Located in the same complex as Eastside Pizza House, Scrambl'd marks the culmination of a dream — and a love of breakfast — for owner Cordell Love, a lifelong resident of Oklahoma City's northeast side. Pointing to the fact that just four years ago his community was labeled a food desert, with residents subsisting out of dollar stores and corner markets, Love wanted to be part of the change.
"It's been my mission," he said. "I want to nourish my community and give them better options to eat, rather than have to go west or north."
Calling breakfast his favorite meal of the day, Love said he wanted to make Scrambl'd a wholly unique destination for a morning meal. He described the vibrant motif, which he designed himself, as a "retro diner put in a time machine" — complete with a sleek bar and a wall of booths under a "Good Morning Eastside" mural along a turquoise wall — and referred to the nationwide trend of "Black brunch" as a key point of inspiration.
"It's more than just a traditional breakfast experience," he said, describing Scrambl'd as a kind of brunch, lunch and bar hybrid. "It's more of a day party. You come in, eat, listen to louder music and it's heavy on the bar." For instance, there's Hennessy on tap, dispensed from a rare custom-made tap handle from the Cognac brand and used to make atypical brunch drinks like the Henny Given Sunday with orange juice and bubbly.
The food is just as distinct. Like the atmosphere itself, a packed dining room pulsing with music at 1 p.m. on a Thursday — you won't find a typical breakfast experience here but rather decadent twists on convention. Instead of steak and eggs, try four succulent lamb chops strung up on a tiny clothesline over perfectly cooked over-easy eggs. French toast comes crusted in crushed wafer cookies and deep-fried, strewn with tender apples and a frosting-like cinnamon butter. Chicken and waffles makes way for chicken and pancakes: fluffy flapjacks sharing a plate with plump, smoky wings and brown sugar butter.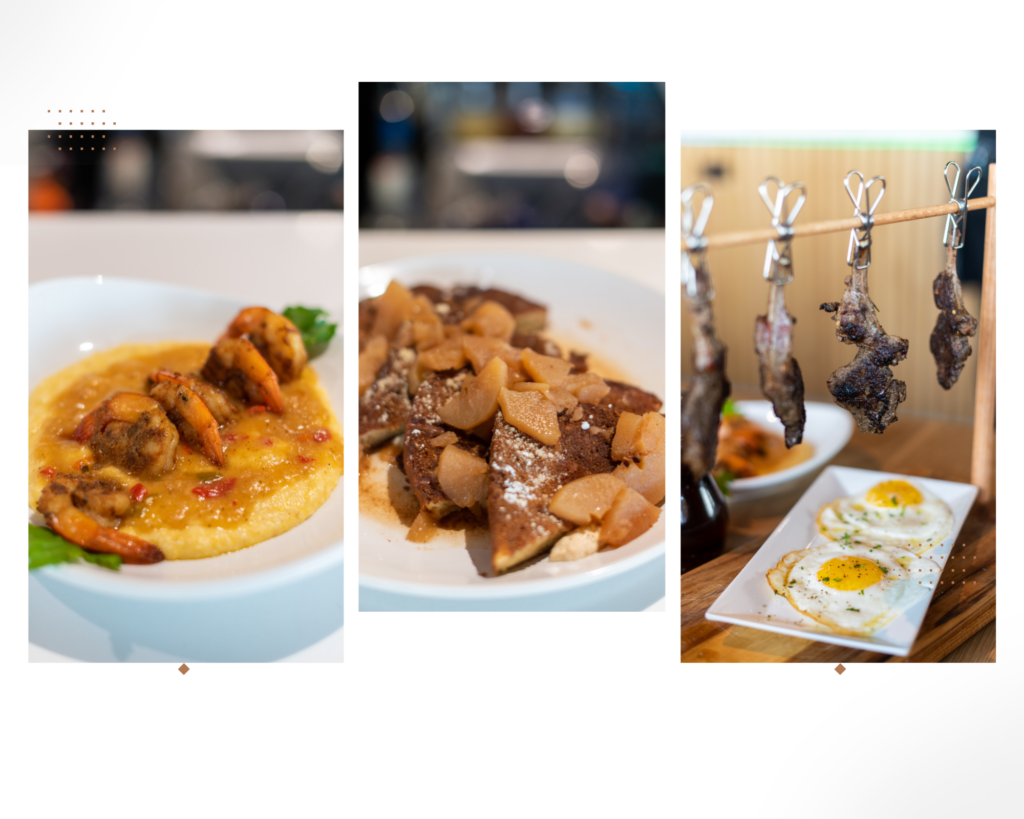 And then there's the mighty Luther burger, a best-seller that sandwiches burger patties between glazed doughnuts — a harmony of sweet and savory comfort in one extravagant bite. Love said: "We have some unique dishes that you can only come here to get, which was kind of the premise." He also said Scrambl'd has the best shrimp and grits in the city, a sentiment borne out by the bowlful of plump, seared shrimp juxtaposed with silken, creamy grits.
Love is also out to nourish the community beyond what's on the menu. In addition to hiring within the community ("so the staff looks like the neighborhood as well"), Scrambl'd looks to continue the economic upswing happening on the east side. "During my lifetime, we've never had anything on this side of town that people can take ownership in and be proud of on the food side," he explained. "I took my experiences from other major cities, and internationally, and brought it back to my side."
It's not just breakfast that's unique, fun, and delicious — it's breakfast that builds community.